Students and employees of participating universities and colleges can register via a web interface. Open a browser and load the website https://bwidm.scc.kit.edu. Select your home organization from the list that appears and click Fortfahren.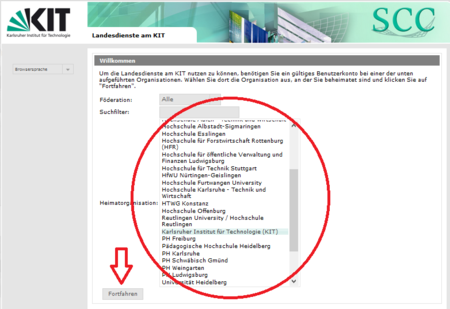 You will be automatically redirected to the Shibboleth page of your home organization. Shibboleth is the authentication method used by bwSync&Share to query the access authorization of the user administration of your home organization. Enter the personal access data of your local user account and click on Einloggen.
Here as an example the Shiboleth page of KIT.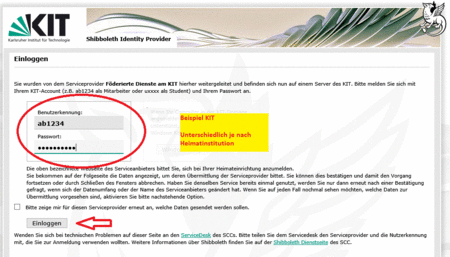 If you are not authorized for bwSync&Share or do not know your user account or password, please contact the helpdesk/service desk of your home institution.
As a member of the participating colleges and universities your user account in the user administration of bwSync&Share is called "Shibboleth User".
Upon successful registration, you will be automatically redirected to the registration website for Baden-Württemberg services operated by KIT.
In some cases, display problems may occur when using Internet Explorer (IE). These can be fixed by opening IE and then pressing the ALT key to display the menu. Then select the Compatibility View settings under Tools and uncheck Show intranet sites in compact view. Or use a Firefox browser.
Click in the navigation at bwSync&Share on Dienstbeschreibung, Registrieren.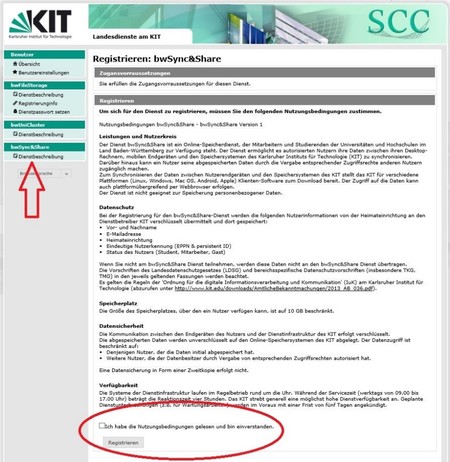 Read and accept the Terms of Use of the Service by checking the box Ich habe die Nutzungsbedingungen gelesen und bin einverstanden. Then click Registrieren.
After registration you will receive a welcome email to the email address assigned to your local user account.
You get a storage quota of 25 GB. You can invite additional users to the folders in your contingent and give them access and/or write permissions.